Alessandra Calò: Photography as a Homage to the Human Experience
© Alessandra Calò: portrait of the artist
"Memory is the diary we all carry about with us."
- Oscar Wilde
About the artist:
"A homage to the Human Experience" is the title I have chosen to summarize the artistic work of Alessandra Calo (1977), an Italian photographer living and working in Reggio Emilia. From the 19th century photographic techniques such as karyotype, cyanotype, or calotype, up to the depths of Favignana island, also called Aegusa (goat island) in the Greek ancient times, ancient herbariums, photographic prints and maps, hands of the most fragile ones among us, Alessandra's work shows a peculiar fascination with the past, with the manual, human experience, that she immortalizes in her work. The final result is paradoxically complex and intriguing at the same time, leaving the viewer with a sense of inexplicable melancholy.
Being simultaneously sharp and blurred, her photographs capture not only a specific moment in time but also witness the death of that moment. Referring to the words of the French philosopher Roland Barthes who argued that photography is connected to death, inauthenticity, and the ability to "wound" the spectators, we can easily agree on the fact that the absence of presence, the impossibility of getting in contact with what is present, plays the role of the "wound" in Barthe's sense. As Sontag says in On Photography, "Photography is the inventory of mortality. … Photographs state the innocence, the vulnerability of lives heading toward their destruction, and this link between photography and death haunts all photographs of people."
Alessandra Calò's works have been shown in prestigious international exhibitions and festivals (among others, Giornata del contemporaneo; Circulation(s) Festival de la jeune photographie européenne in Paris; Rencontres internationales de la photographie en Gaspésie in Canada, Ras Al Khaimah Fine Arts Festival (United Arab Emirates). Artist's books and publications play a founding role in her artistic practice. One of her photobooks, (Secret Garden by Danilo Montanari Editor) won the mention in Bastianelli Prize as the best Italian book published in 2018. Some of Alessandra's artworks have been published in specialized magazines and acquired in private collections, foundations, and museums, such as Maramotti and Donata Pizzi Italian collection; Artphilein Foundation in Switzerland; MoMA and Met Museum in New York.
© Alessandra Calò: Les Inconnues (The Forgotten Ones), gelatine (silver salt and iron salt) on crystal, 2018
Ana:
Alessandra, if we return a bit to the past, could you remember what was your first photographic experience/first encounter with photography and the image that comes to your mind?
Alessandra Calò:
I think I have always had a passion for photography: when I was 3 years old, I remember, my father gave me a toy camera... until now, I have never been separated from it! I also remember a lot of film rolls during school trips (someone complained because I take pictures of places and not people) ... Furthermore, I thought that by producing and accumulating images, I would never forget anything about my life and my experiences.
Ana:
How would you describe your photographic language?
Alessandra Calò:
I believe that my photographic language is "evocative". I'm not a reportage photographer (maybe I can't tell a real story through the camera). My research is focused on the transformation and reinterpretation of archive materials ... What the viewer watches is not reality, it is an input that initiates him to create a story...
Ana:
I see your work as an attempt to resurface the human experience, by honoring ancient photography techniques. A huge portion of the emotional language in your photography is conducted by techniques such as karyotype, cyanotype prints or even printing on glass. How did you get into exploring and mastering this 19th-century technical side of photography?
Alessandra Calò :
I am fascinated by everything ancient and forgotten, especially because of the manual nature, with a high rate of defects. The defect, for me, means "humanity." (i.e., the hand of the man who intervened on the matter). I started in the darkroom through gelatin silver printing processes, and then my passion led me to calotype, cyanotype, and oleotype... I'm always looking for three-dimensionality in my artwork and this is my motive-in addition to paper print - I research alternative materials, such as glass.
Ana:
For this interview, I have selected 4 of your projects that speak to me the most: Les Inconnues, Kochan, HERBARIUM I fiori sono rimasti rosa and Chthonic. I would like us to touch on some aspects of each of these works to give a more comprehensive image of your artistic process.
I was interpellated with Herbarium I fiori sono rimasti rosa because of the complexity of the symbolism. Common, fragile weeds, the 19th-century calligraphy of the amateur Antonio Cremona Casoli (also a herbalist if I am not mistaken?)** and hands of individuals with special needs…. What was the idea behind this project that also resulted in a book?
© Alessandra Calò: HERBARIUM, 2022
Alessandra Calò:
The project was born from the Museum commission. I've worked with disabled people for 4 months in the Civic Museum, and my goal was to create an inspired artwork thanks to people and the vast cultural heritage held there. Exploring archives, we have discovered Antonio's little-known herbarium. It was a starting point for me to reflect on new ways of conceiving images. While well-known herbarians stand out for their completeness and commitment to research, Antonio has the purity of a kind of curiosity that has yet to know scientific rigor. With the same approach, I've guided the group in the creation of an ideal herbarium, where the concept of beauty widens to include imperfection, fragility, and marginality.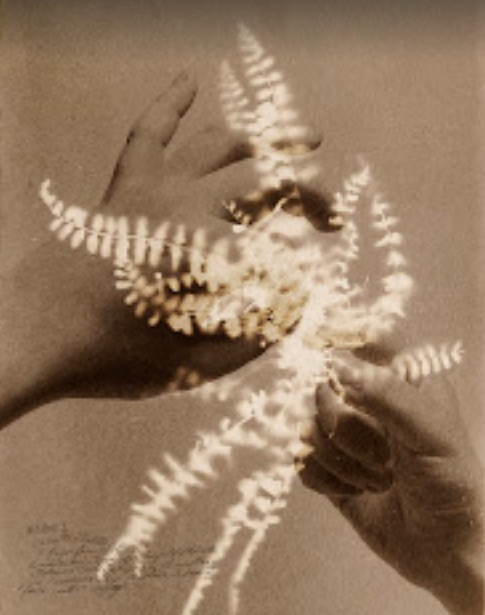 © Alessandra Calò: HERBARIUM, 2022, pigment print on awagami paper
We have picked weeds (city wild herbs, apparently worthless) and transformed them into calotypes, printing them in the darkroom. I asked myself: could something considered by society as waste become a resource? Could something that is considered ugly and useless, be transformed into beautiful artwork?
The project has 3 layers: the second one is the hands of my group (I asked them to imagine the act of picking herbs...imagination and reality are not very easy for them), the third is Antonio's calligraphy because his words were a link between past and present. At the end of our experience together, the group asked me where Antonio was and why he didn't come to us... A very strong bond had been created!
**Antonio's herbarium dates from the time he was 13 years old. Antonio became a famous lawyer in the history of our city.
© Alessandra Calò: HERBARIUM, 2022, artist photobook published by Studiofaganel, Gorizia
Ana:
The Chthonic is your tribute to Favignana Island, the land itself, the inhabitants, stories, and legend. Is there any particular story you would like to share, and could we maybe retrace one personal story? And what interests me the most: the techniques used, and where were the images of the inhabitants found?
Alessandra Calò:
When I arrived on the island, I felt a very dark and intense feeling. In addition to photographs, I interviewed the local inhabitants (the fisherman, the employee, the priest, the child, the driver, the historical professor, the doctor, the woman at the supermarket ...). Listening to everything, I had the feeling that it wasn't just one person speaking but the island and its depths. Therefore, I have chosen to represent reality through stones and nature and decided that the inhabitants had to be imagined... so, the persons you see, are photographs recovered from the archives.
© Alessandra Calò: Chthonic , oleotype on cotton paper, 2023
© Alessandra Calò: Chthonic, oleotype on cotton paper, 2023
Ana:
You are also a real researcher and collector from what I could understand: old photos, maps, books, plants…. What are the places you typically turn to find the material?
Alessandra Calò:
I love antique and flea markets because I can buy (even at low prices) some things that inspire me. Sometimes people who know me offer me objects, or I search online for someone who makes public images of their collections (for example NYPL)
Ana:
As for any artist expressing a strong symbolic language, I have to ask you how important is the written word for you: literature and/or poetry. What are the authors that have influenced your work?
Alessandra Calò:
In my point of view, images, and literature are very linked, like complementary. I will give you an example: when I read a book, I imagine the story, the objects, the persons....so, I create a lot of mental images. Instead, when I observe pictures and images... I create my own story.
When I was a child, at school and at home, I was always encouraged to read books. Now, my preferred books are those of Japanese writers (for example Haruki Murasaki) because within those books there is so much imagination and so many clues to imagine. I also love poetry for the use of such delicate or bold words, often with so many meanings... every time you reread it, you discover a new meaning.
I find poetry very powerful because of its multiple interpretations.
Ana:
The previous question brings me to the Kochan series, named after Yukio Mishima's novel The Confession of a Mask. The first association that came across my mind were recent feminist theories of nationalism, especially one text written by Rubina Saignol in which she describes how the bodies of women became political signs, territories on which the political programs of the rioting communities of men were inscribed. There is also the theory of «my body my territory» as a recognition of possession, belonging, demands, and a declaration against the multiple forms of violence that our bodies have experienced in different contexts. In this specific context, I dare to ask you how much are you influenced by feminism in this work, and what is your opinion on female body integrity in a public space today?
© Alessandra Calò: Kochan, fine art print on cotton paper, 2017
Alessandra Calò:
Art is a means of communication - so, it can be political.
This project, in a certain way, is a means to ask ourselves what is "identity" and furthermore, our understanding of the differences between the idea and the reality of "being someone". My process to arrive at these images has been long and tiring. I looked for a metaphor, and "the journey" seemed the most suitable to me.
Mishima's autobiographical book (Confessions of a Mask, 1948) was an inspiration to accompany my project.
© Alessandra Calò: Kochan, fine art print on cotton paper, 2017
There are many symbols and parallels in these images: ancient geographical maps (places that no longer exist today), superimposed bodies (every day we are in transformation inside and outside ourselves): every day the borders are rewritten by the hand of man (wars and political decision), the morphology of the territory changes due to atmospheric events...also, we are continually changing because of physiological or social reasons.
Can we really know who we are? Are we the same person every day as yesterday? And tomorrow will we be the same? Time passes, and we travel through time adapting and changing (like the territory) but without precise coordinates.
© Alessandra Calò: Kochan, fine art print on cotton paper, 2017
I think Feminism is an attitude, and it should belong also to men.
It is not necessary to declare yourself as a feminist, instead, it is necessary to be free to express yourself without having to be offended, ignored, or judged...
Art is a means of communication, and it can also be political.
As an artist, I communicate through images and my research is focused on issues around identity, linked to nature and fragile conditions: in my artworks, there certainly emerges a relationship with feminism, but it is never explicit nor too aggressive.
Certainly, these evocative images encourage us to reflect and create connections.
© Alessandra Calò: Kochan, fine art print on cotton paper, 2017
Ana:
I do feel this care for the female condition through a collective memory in your series« Les Inconnues », a tribute to Anna Atkins and Constance Fox Talbot for which you have managed to collect more than 300 photographic glass plates (from what I was able to read)! What was the message you wanted to convey with these poignant portraits?
© Alessandra Calò: Les Inconnues, gelatine (silver salt and iron salt) on crystal, 2018
Alessandra Calò:
When we look at a photographic portrait, we know the subject is - or was - real, that precise moment he/she had expression, facial features, clothes... but nothing else is allowed to us because the shot captured that moment only. Everything else, need to imagine.
Starting from these portraits (unknown identities) I wanted to remember every woman, especially two women who made the history of photography in a "silent" way.
The work was born as a tribute to Anna Atkins (the first woman who adopted the photography medium to make illustrated books) and Constance Fox Talbot (the first woman who took photographs).
© Alessandra Calò: Les Inconnues, gelatine (silver salt and iron salt) on crystal, 2018
These presences can be considered as the result of an investigation into beauty and the attempt to go back in time as if I wanted to get in touch with women in the history of photography. From a practical perspective, the study of their work allowed me to research and use the first printing techniques, such as calotype and cyanotype. From the intellectual perspective, it stimulated me to my reflection on the concept of "latent image": latency is a time, like a "limbo". In photography, it means the image is already there but has not been revealed yet.
Indeed, I wanted to impress on glass, a portion of female portraits, which resembles more to a dream materialization than a real professional photo. The use of handmade photosensitive emulsions is both a tribute to the times these photographers were living, in the nineteenth century, and it allowed me to compare myself with the natural element and the unpredictability of outputs. The final texture itself is unique and mysterious, pointing out the difficulty and the humanity of the process, where the defect is a predominant characteristic.
© Alessandra Calò: Les Inconnues, 2018
The project is also a tribute to female beauty, the protagonists of the pictures are unknown people who became fascinating pictures... To look at them means to look inside ourselves and discover some things about us. Often, the observations and feelings are different because each person has a personal sensibility.
Ana:
Lastly, what are the media and subjects you would like to research more in your future projects?
Alessandra Calò:
I think the future always remains a past to rework.
At this moment, I believe the topics of my research are still focused on memory and bonds.
I feel a need to re-establish connections between people and nature. To get it, I need to dig and collect information from the past to contextualize it in the present.
Contact:
Alessandra Calò's website: https://alessandracalo.it
Instagram: @alessandra_calo
Sources:
Barthes Roland: La Chambre claire, Gallimard, 1980
Sontag Susan: On Photography, New York Review of Books, 1977
Project Marta monitoring art archive, https://www.projectmarta.com/en/autore/alessandra-calo/
Comments
Loved the connexion between nature and human , and the multiple symbolic elements of these amazing compositions. Thank you for sharing this.