Gülçin Akdemir:
Creating spaces where luxury and simplicity become one
"Unless you have a feeling for that secret knowledge that modest things can be more beautiful than anything expensive, you will never have style."
- Andrée Putman
My obsession with space, furnishing and interior design continues with this impromptu discussion with Gülçin Akdemir, a Turkish interior architect for Ligne Roset based in Chicago and former graduate of Harrington College of Design. Throughout her career Gulcin accumulated extensive knowledge in luxury furnishings, lighting and accessories.
Some of her fields of expertise include furniture, interior design, space-planning, furnishings, textiles, visual merchandising, custom furniture, retail design, residential homes and renovation. Gülçin's various decoration endeavours are showcased on her instagram page @gulcin_interiors.
Ana:
Gülçin let's open this discussion with Ligne Roset, a factual institution in contemporary furniture, a worldwide symbol of French elegance and recognizable style of life that reunites some of the most prominent contemporary interior designers like Angie Anakis, François Azambourg, Claude Brisson or René Barba. What are in your opinion, the major contributions of Ligne Roset to the world of interior design architecture?
Gülçin:
Without hesitation, I would say that Ligne Roset's most meaningful contribution to Design is that they continue to journal the Language of French Culture, by being relevant and current in their esthetics. I believe their success exemplifies in how their furnishings (especially their upholstered collections) are created in the same breath as the French Fashion Houses.
The iconic Ligne Roset's Togo sofa was created in 1973 by the Lyon-based designer Michel Ducaroy. Source: https://www.ligne-roset.com/fr/modele/vivre/canapes/togo/37
From the hand pleating of the Togo fireside chair to the quilting of the Ruche collection by Inga Sempe. The French are masters in Couture, and one can immediately identify a Ligne Roset piece from this perspective. Let's be honest and recognize the fact that the French do not fail when expressing Art and Design, and Ligne Roset has always represented heritage-grade furnishings that sustain longevity, value and respect. With that said, and as an Interior Designer myself, I'd also like to think that I strive to design spaces that sustain longevity, value and respect.
Private residential project. Clients own tables, storage cabinets, and African framed textiles. PK60 Ottoman in black & white stripe by Antonio Citterio for B&B Italia, Panton chair, Chair-One by Konstantin Gricic, Jeannette chair by Campana Brothers for Edra, Paola Navone diamond-back woven chair, Ingo Maurer "Zettlel'z 5" paper chandelier. Photo: Courtesy of Gülçin Akdemir, @gulcinakdemir1
(Left) Chair One with concrete base by Konstantin Grcic, Mario Bellini Chair, Toy chair by Philippe Starck, Striped ottoman by Antonio Citterio for B&B Italia. Photo: Courtesy of Gülçin Akdemir, @gulcinakdemir1
Private residential. 10-Unit Chairs by Shigeru Ban flank the USM Haller vitrine in the foyer. Clients own carpet, accessories and Siamese cat "Mimi". Photo: Courtesy of Gülçin Akdemir, @gulcinakdemir1
Black cow hair ottoman and sofa by Antonio Citterio for B&B Italia. Floor lamp by Arne Jacobsen, Eileen Gray's E1027 side table, wall installation of pulled porcelain by Piet Stockmans, Cappelini's glass vase on Mantle. Photo: Courtesy of Gülçin Akdemir, @gulcinakdemir1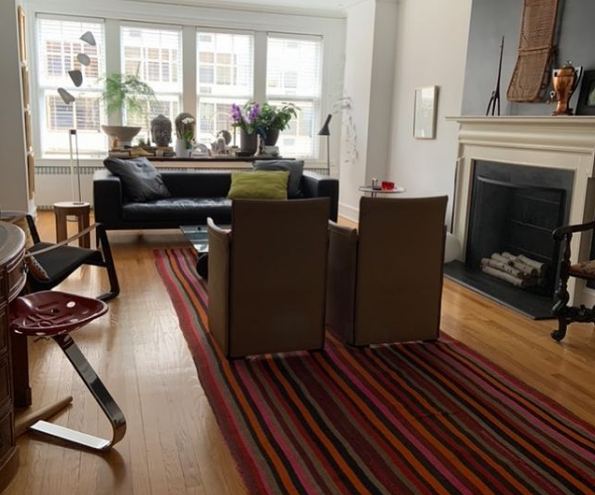 Achille & Pier Castiglioni Mezzadro stool, brown leather Cab chairs by Mario Bellini, Jean Prouvé Cite Chair, Gae Aulenti Tavola con Route coffee table, MaxAlto Black leather sofa, Eileen Gray tube floor lamp, Arne Jacobsen reading lamp, Vintage Turkish Kilim carpet. Photo: Courtesy of Gülçin Akdemir, @gulcinakdemir1
Jean Prouvé Cite lounge chair, Fontana Arte , Gae Auletni Tavola con Route glass coffee table with wheels Art work, Corso Como, Rosewood Tray by Porro, My First Flame LED candle table lamp by Ingo Maurer. Wooden side tables, private collection. Photo: Courtesy of Gülçin Akdemir, @gulcinakdemir1
Ana:
In addition to your cultural heritage, can you say that you are somehow influenced by the ornate, colorful and vibrant Byzantine and Ottoman decorative style and if so, how does it show?
Gülçin:
My childhood home was very vibrant in color and decoration; however, my mother had exceptional restraint when it came to display our Turkish ethnicity. She would tell us that people should curate their homes in any manner they desire; but she also felt that we must be our own "Editors". I'm quite certain that my Design approach was planted with a similar seed from my mother.
I genuinely love expressing color and displaying rich layerings of textiles and objects; however, I'm unable to tolerate "excess", since it's so uninteresting to me. I almost have an allergic reaction to intentional clutter.
I also find the irony in some of my favourite Interior Designers approach as priceless; in that when they are asked for guidance from their clients, they tend to advise them as to what they should "Not" acquire, or as to what possessions they might want to relocate or pass down. For me, these types of conversations and collaborations with our clients not only define who I am as a Designer, but it's extremely humbling to be commissioned by a client who requests my Design approach.
I think we should choose Interior Designers who's Environments make our hearts leap as soon as we come upon them. (Another irony that I commit on a daily basis is that I adore all colors, yet my wardrobe is 95% Black! ).
Ana:
Who are the interior designers/architects that inspire you the most today and why?
Gülçin:
I've been a massive admirer of Andrée Putman since I was in my early twenties and have been incredibly influenced by her for the past four decades.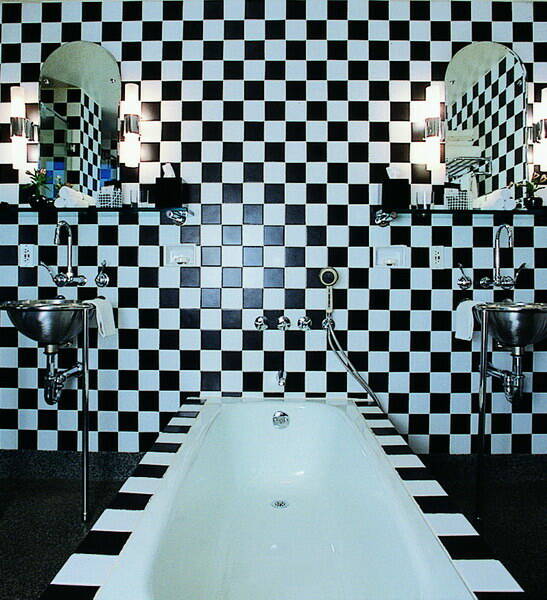 Andrée Putman's bathroom renovation project of the Morgans hotel in New York, 1984. source: https://www.pixelcreation.fr/galerie/voir/andree-putman/andree-putman-salle-de-bains-hotel-morgan
I also respect the insanity and brilliance of Philippe Starck as much as Tadao Ando. Both of their disciplines and executions leave me breathless. I've placed one of my friends, Michael Anastassiades, on a most prominent Pedestal in my Design World. I don't believe any Artist will ever come as close to Design authenticity as Michael has.
Arrangements by Michael Anastassiades, 2018, a modular light system inspired by the parallels between lighting and jewellery. source: https://www.scandinavia-design.fr/flos-arrangements_en.html
I'm also very fond of those Designers who are no longer with us- Shiro Kuramata, Marten Van Severen, Louis Kahn, and Philip Johnson. A contemporary Designer whose work I cherish would be Uli Mayer Johanssen. Her work defines my style in the best way. I think she has impeccable taste and expresses her soul in her work.
Ana:
Where do you see the major differences in furnishing between a typical Turkish and American home? Have you spotted some ongoing tendencies in furnishings in the United States?
Gülçin:
It's quite astonishing to explain a typical Turkish home since so many spaces have been influenced by the West. I have found it intriguing to read a Turkish Design Magazine and see quite a few similarities to an American designed home. I Don't react negatively or disappointed when I see American influences in a Turkish residence; since after all, good Design will always leave an imprint and have an impact on civilizations.
If I had to define a few major differences, it would be the grand amount of doilies in a Turkish designed home. A hand crocheted doily that's presented under every Vase or table will entail an announcement of the Cousin or Aunt or Grandmother that created the textile, with the utmost love and devotion. In a more typical American residence, I find that the client is a bit more private with their acquirements and statement pieces. The presentations of decorative and stylized objects in a typical American home tend to be more subtle and refined, and somewhat challenging to identify its provenance.
A unique and very defining Turkish piece of furniture would be the Divan. It tends to be presented in the most intimate and comforting fashion, since the seats and backs are afforded massive quantities of pillows and blankets, which then allows the guest to perch and remain comfortable for hours on end.
I personally feel as though I'm sitting on my bed when I find myself on a typical and traditional Turkish Divan. I can sincerely relax and melt into the luxurious and colorful textiles. The backdrop of most traditional Turkish sofas and chairs are composed of bright colors and bold motifs, that makes the visitor feel as though they just stepped inside a brilliant wallpaper.
The typical American home tends to be more subdued when expressing a welcoming atmosphere. The colors on the walls, the carpets, and furnishings are usually quiet and peaceful, and only a few elements in a space are viewed as the focal point, such as the fireplace or a magnificent staircase. I think American Designed homes speak the language of decompressing and turning down the volume in order to allow the world to slip away.
Turkish samovar on the fireplace,Vietnamese folding beach chair on the wall, Ingo Maurer, Lucellino table lamp. Photo: Courtesy of Gülçin Akdemir, @gulcinakdemir1
Ana:
How would you describe your personal decorative style?
Gülçin:
I've really never been able to define or baptize my "Style", and it's difficult for me to even explain my style to myself. I've always felt that one should SHOW their Design and not necessarily SPEAK Design. I find it more appealing to my ears when someone is allowed to interpretate my Design and share their perceptions and emotions when they experience my style. I've been told that my style is extremely intuitive and my projects appear truthful to the client's vision. The highest compliment a client has bestowed on me is that they were "heard"; and I want my clients to walk into their spaces and feel as though they've Designed it all.
Private residence, Andersonville, Chicago. Cabinetry by Pamela Polovere, CKD Chicago. Client's own table and chairs. Vintage German glass pendants from 1stDibs. Photo: Courtesy of Gülçin Akdemir, @gulcin_interiors
Ana:
Where do you see yourself professionally speaking in the upcoming future?
Gülçin:
Since the Pandemic, I haven't accepted any speaking engagements and honestly don't know when I might get back into those types of presentations and reveals. I think most of humanity is quite exhausted by Zoom and merely "listening" to people talking and expressing their opinions endlessly. I think it's best that we slowly emerge from our Nests and Cocoons with a new way of processing Design information. I'm not certain what this "New" way would look like, but I'm quite certain that it won't be approached as previously displayed. I do miss Teaching and inspiring young Design Students at the School of the Art Institute of Chicago, and taking students from IIT's Interior Architectural program on Design tours. There's an immense return in inspiring a young mind and watching them ignite :).
Comments
As a follower of Gulcin in instagram…. I'm always fascinated with her artistic taste. Such a beautiful creative person.
Gulcin is amazing, knowledgeable, and has a great eye for design!