Seta D'Hoyos: Art and Identity in the spirit of
French Existentialists
Following the words of the American writer Carolyn Miyss, "Always go with the choice that scares you the most, because that's the one that will require the most of you", I decided to take a chance with Seta D'Hoyos, a Parisian performer, art model, stylist, fashion consultant, singer and event planner. Despite the complexity of intersectionality and my hesitations towards everything too extravagant, her delicacy, openness and overall inclination to be heard and understood will always be remembered and deeply appreciated.
This discussion is centered around the artistic work of Seta D'Hoyos, her path towards identity completeness, mondaine society and Paris, that she describes as a city "magnifique et maléfique" (magnificent and malicious).
© Karine Meknes, source: @setadhoyos_2021
"Everything indicates that what we do is now more important than what we are. We are especially not "something", but we "do a lot of stuff". Still, it's nice to be something and even more enjoyable to BE SOMEONE." (Dexter Dex Tao, former persona of Seta D'Hoyos, In What State Do I Wander, translated from French: Dans quel état j'erre.....?, http://dexterdextao.online.fr/)
It was Jean-Paul Sartre who said that human beings should create their own selves, create their own nature, their essence that is not given from the starting point. For existentialists, there was no eternal human nature, we are all condemned to improvise, as actors pulled up on the scene, without being given a clearly defined role. We are the ones making the choice of how to create our true existence.
Through the philosophy of French Existentialists I tried to understand the complexity of an existence where everything had to be reclaimed and reconstructed, where nothing followed the established plan, and where the transition towards a personal true self, extremely challenging both mentally and physically, required an almost supernatural determination. This was the path of Seta D'Hoyos, a 53 year old Parisian artist, in France from the age of 3, born in Cameroon, using a composed artistic name as she says, to preserve the anonymity of her rigorous family.
"I had lost my innocence", was one of the first sentences Seta D'Hoyos said during our first call. The firm sociocultural codes, both the lies and the double life behind the scenes of her father, the ambassador, and the high family expectations where you had to become the best......there was no understanding for a child who just wanted to slip inside a female body, to become herself.
Seta D'Hoyos: I was 5 years old when I first put my little sister's dress on. I told my father that I would get married in a red dress one day.
Her suppressed freedom of identity would first be released through modelling around the age of 16. She was at the time booked by Brice Compagnon for the United Colors of Benetton campaign. Through numerous artistic corporal transformations that came later on, her body became a medium of expression, defined each time in a personal way that goes beyond the norm.
© Karim Baudrais, © Pierre-Yves le Strat, © Ariane Smolderen, source: http://dexterdextao.online.fr/page2.htm
Seta D'Hoyos: My father decided that I had to become a statutory auditor. It was during a time where parents imposed future professional orientations. We didn't have a choice, the parents decided what type of studies we should pursue. It was a sort of a dictatorship. When I was around 16, 17 years old I wanted to become a ballet dancer, but my father refused. I wanted to be a stylist, I was crazy about fashion. He refused. Firmly of course.
My mother didn't have the ability to say anything generally speaking. The patriarchy was very important. The principal role of my mother was to educate and take care of us. This was something I deeply regret to this day and it forced me to leave the family cocoon and go towards the unknown, the adventure, with 1 franc in my pocket, and a Vuitton bag with 1 pair of jeans, trousers, some underwear, socks and I had just 1 franc in my pocket!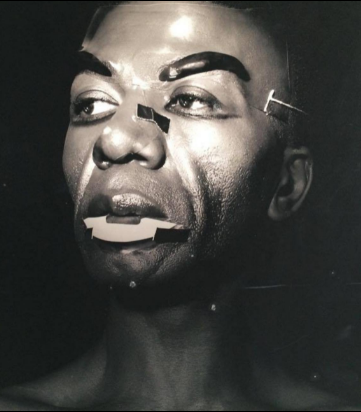 © Jacques Lecorre, http://dexterdextao.online.fr/page2.html
Seta D'Hoyos: At that time, after leaving my family home at the age of 17, I lived in Le Raincy, a nice suburb of the department Seine-Saint-Denis. My parents had moved afterwards to Neuilly-Sur-Seine but I was no longer part of the family cocoon, I had already flown towards the adventure. During the 15 year period that I hadn't seen my family, it was my dear mother who investigated my whereabouts and managed to find my address that was at that time in the 6th arrondissement of Paris, Place de Furstenberg.
One day I went to the gardens of Tuileries (a famous public garden situated in the 1st arrondissement of Paris) with all of my determination, facing the challenge of the new life in front of me. It was in that garden that I caught the eye of a famous stylist who opened the doors for me and introduced me to the world of fashion. Afterwards I started to position myself as a stylist, climbed the ladder with ups and downs as well as the low blows, the joys, the marvelous moments...
With the great Azzedine Alaïa, photo courtesy of Seta D'Hoyos, source: @setadhoyos_2021
Seta D'Hoyos: LOVE, GLORY, BEAUTY AND STUPEFACTION, this is how I would qualify my entry in the fashion world, with all the splendid ladies, ostentatious dramas...., all the protagonists leading the dance at their will... Either it was a magnificent masked ball, Sodom and Gomorrah or outright a malevolent ball. Those who made it through did well and those who flinched, flinched.... as simple as that.
From her early age Seta D'Hoyos cultivated a passion for fashion and artists. She wanted to pass on to others, especially young talents entering the scene, the dream fashion offered. A dream that was magnificent, imaginary, temporary and challenging. Always a freelancer in order to preserve her autonomy, with a couple of downs necessary to access to a certain notoriety, Seta D'Hoyos took 10 years to establish a fashion agenda worthy of that name. It is worth mentioning that she worked as a fashion consultant for some of the most prestigious French haute couture houses.
© Fethi Sahroui, http://dexterdextao.online.fr/
Besides the context of fashion, we also touched on the Parisian mondaine society. "In big capitals everything is permitted", she says. Those words inevitably made me think about Dostoevsky who said that If God is dead, everything is allowed. But even if God existed, what difference would it make? That was the idea behind the atheistic existentialism of Jean Paul Sartre, the idea that resonates in the artistic expression of Seta D'Hoyos.
Suchlike Sartre, who claimed that all that matters is reality, and that everything beyond only allows us to define a man as a disappointing dream, she declares: "I am fascinated by reality because it is not so frequent to love the real." And indeed, Seta D'Hoyos fiercely looks at this reality with open eyes, a reality where men kill and pervert at any scale. Extremely insightful, she has no difficulty in seeing who is who from the get go. "In the midst of dissipation, how does one protect himself", I asked. "You hav.e to be yourself in order to protect yourself from the world", she instantly responded.
Historically a city of pleasures and modernity, Paris is a place, as described by Jean Cocteau, where everyone wants to be an actor, nobody is content to be a spectator. I would add it's a place where we don't come to follow the rules but to recreate them, This was exactly what Dexter Dex Tao, the former persona of Seta D'Hoyos, did in her one-man-show ÉCOUTE MOI BIEN! (Listen To Me Carefully!) co-created in 2019 with Delphine Hardouin.
© Seta D'Hoyos, Dexter Dex Tao, the former persona of Seta D'Hoyos, from the one-man-show ÉCOUTE MOI BIEN!
© Seta D'Hoyos, in the persona of Gladys de Hoyos, from the one-man-show ÉCOUTE MOI BIEN!
In this ingenious, intimate performance strongly influenced by the French Theatre of the Absurd (théâtre de l'absurde) Seta D'Hoyos opens up about the conditions of life in Paris in a specific milieu where the ambiance often gets torrid. She tackled, in her unique flamboyant manner, the realities of our existence. "My one-man-show was my greatest therapy", she says I would dare to add, a personal reconciliation as well. She will also use a new persona, Gladys, to announce a new turnover, the slow process of transformation towards her identity completeness.
Seta D'Hoyos: Speaking of the context of my completeness, I am not very keen on using the terms "transition" or "agreement" which are mostly employed by the medical professionals, keeping in mind that it is the psychiatrist that validates the prescription for hormonal therapy.....It is truly a personal process that emerges from ones deepest self... at the age of 5 in my case. My psychiatrist asked me why have I waited for 50 years, why now? 'WELL WHY NOT,' I said and carried on: 'Please stop asking me these types of questions...I AM HERE IN FRONT OF YOU TO ACCESS MY COMPLETENESS.' 'Ah...perfect.. I understand,' she said finally.
On the other hand...my first hormonal treatments.... ohh a complete turmoil, a hormonal disorder due to the chemical castration provoked both by the hormones to eliminate the levels of testosterone, and those needed to raise the estrogen levels. It takes 5 years to completely eliminate male hormones from the body. THE BRAIN GETS SMACKED- mood swings, solitude, crying attacks, vomiting, bulimia, weight gain, fat gain, development of female features (hips, breasts..). The voice does not change. That is why the surgery of vocal cords comes afterwards, but it is a procedure not yet obtainable in France. The softening of the voice is a process that comes naturally, when the body adapts to the feminine nature of one's true self.
© Paul Steinitz, source: http://dexterdextao.online.fr/page2.html
Seta D'Hoyos: I AM NEITHER TRANSGENDER NOR TRANSSEXUAL. I AM HETEROSEXUAL AND A WOMAN, this is what I respond today when someone asks about my identity. Even in my previous years I could count on one hand the number of men, entirely gay with whom I had intimate relations. Well no, there were not more than 6 or 5. The rest were MEN, married men. I was always attracted to MEN who love WOMEN.
Reflecting on Seta D'Hoyos words, I will always remember her metaphor regarding men: "I approach men like endives, peeling slowly leaf by leaf to see if there is any dirtiness hidden inside".
Seta D'Hoyos: I opted for facial surgery to not be confronted anymore with confusion regarding my gender and to soften my male facial features. In total, 11 hours of surgery, two long operations of 5 and 6 hours, concluded with a cervico-facial lift. Along with vaginoplasty, these HARD, very HARD, operations with regular medical surveillance, require a disciplined, healthy lifestyle, all excess is strictly forbidden if we want to manage our completeness in a best possible way.
© Ariane Smoldoren, source: http://dexterdextao.online.fr/index.html#wa-anchor-top
Relations with both men and women change during the process towards completeness. She states: "I refuse to be seen as a sexual object. Throughout that stage we are considered as objects, sexual objects, as sorts of "mutants": no longer men and in the process of becoming women."
Completely honest about the physical and mental postoperative pain, Seta D'Hoyos underlines the importance of a thorough consideration of one's personal reasons for embarking on such a complex and possibly perilous journey.
Her path towards completeness was all encompassing: a joyous, perturbative, reassuring and unsettling experience, approaching even madness and neurosis at stages. There is a huge importance in finding a solid support system whilst undergoing the self-alienating process of hormone therapy and reconstructive surgery.
Seta D'Hoyos defines these measures undertaken to achieve her completeness as the "most intimate experience one can have". The decision comes from certainty. A truth felt deep within. "Time and patience are required to assimilate all the new female aspects of one's nature slowly replacing masculine thoughts and features", she adds. At 53, Seta D'Hoyos can finally become the one that is "the source of all life", feeling her personal nature based on a real experience and a real CHOICE.
© Cristelle Ponet, (ww.crhistelleponet.com), source: http://dexterdextao.online.fr/page2.html
I thank my dear friend Alejandra Mendoza for the precious linguistic advice.
Comments
There are no comments yet.