Daniel Bruce Monroe: The Beauty of Broken
Embracing Clay as a Lighting Material
© Daniel Bruce Monroe: Daniel with his clay lamps. Source: @bruceceramics
"The scars are the design. Your attention is drawn to the cracks and how they are mended. That is what you're supposed to see. The beauty is in the brokenness."
- Justin Whitmel Earley
Introduction:
There is probably no material so universal to human history as clay. Made of water and earth and hardened by high levels of heath, it is used to make all kinds of ceramic objects and pottery. In a more artistic sense, the raw, natural aspect of this material is perfect for creating art pieces where we can sense the emotional language of the artist ingrained in the piece.
Sensing this language brought my attention to the work of a California-based ceramic and lighting designer, Daniel Bruce Monroe. His minimalistic modern design is aligned with the Japanese appreciation of the beauty of imperfection, impermanence, and simplicity, also known as wabi-sabi.
The punched shades tell us their own story as if they were wounds that leave different marks on each of us. One of Daniel's goals is to make lamps worth looking at when both turned off and on. In this sense, he approaches the philosophy of French designers such as André Borderie, well known for his iconic Tête à lumière table lamp from the 1960s, who prioritized the aesthetics of an object over its practical use.
What I really appreciate in Daniel's approach is that it is completely unpretentious, mostly driven by simple playfulness and experimentation, with often surprising results. For example the dark patches on the modular Lotus lamp, made from orange clay - my personal favorite, result from a wheel not thoroughly cleaned. The charm hides in the small omissions!
By using different types of shades that control and guide light decisively, Monroe's lighting pieces define space with chic elegance. They are perfect for intimate spaces where total light control is preferable. His handmade lighting pieces are currently exposed at the Laguna Art Gallery in Mission Viejo, California.
© Joanna Monroe, @joannamonroephoto: Daniel working on the potters wheel
© Daniel Bruce Monroe: Super Collapsed (~16" tall, 8" wide). Source: @bruceceramics
Ana:
Could you tell me what made you start with ceramics? Was your education related initially to design, and what was the first object you created?
Daniel B. Monroe:
I started ceramics senior year of college when one of my friends brought me to the school studio. The first item I made was two cups. One of which I still have, the other was lost in moving. That was February 2020, and the following summer, I spent plenty of time at my house making pieces on the potter's wheel. I moved studios three times since then, finally building my own home studio where I currently work out of.
© Daniel Bruce Monroe: The Small Straight Lamp and the 12oz Coffee Mug
My degree was in Elementary Education and music, and I still play guitar with my church and teach lessons to students. Although if I am honest since picking up pottery it has become my passion, and it's the career I want to pursue.
Ana:
I read on your website that your work ethics were influenced by your father, who was a perfectionist in his work? Could you call yourself a perfectionist? In regard to a particular style, are you a minimalist?
Daniel B. Monroe:
Yes, my work ethic was heavily influenced by my dad. He is a perfectionist, but with a grace around him. I remember working on projects where he would have me do things again, and it was never out of a place of anger, but of teaching and wanting to see me at my best. I would say I'm a perfectionist within reason. An example of this is the inside of the lamp shades have horizontal lines, which look better when they're imperfect. I like the handmade, rough look.
My style right now is pretty minimalist/expressionist with a hint of wabi-sabi. I say right now because who knows what my art will be like in 2 years. That's something rather exciting about being an artist, you're constantly evolving. My focus earlier this year was 'perfect' pieces, lamps that didn't have any alterations. Now I'm working more with broken and altered lamps that capture feelings. This collection honestly comes from a couple hard years when things seemed so broken and in disrepair. Framing those feelings in these lamps show me, there is still beauty in those difficulties and imperfections.
Ana:
What would be your favorite lamp, and what is the story behind it?
Daniel B. Monroe:
My favorite lamp... That's a tough one because it changes often. Usually the one I'm working on or just finished. The original Burst has a special place in my heart because it's the first large lamp and altered lamp I made. It was an accident that has pushed my artistic interests in a whole new direction. After that one I began to mess around with other lamps to add more bursts and that's where the collapsed lamp came from.
Ana:
What inspires you to create? Do you have any influences in terms of design? What would be your definition of well-made design?
Daniel B. Monroe:
I'm inspired by many things. Other creatives, problem-solving, and nature. Artists that have impacted me currently are Daniel Arsham and Steven Young Lee. They both work in the realm of creating broken and aging pieces. A well-made piece for me includes a certain level of excitement and simplicity. I don't do well with overstimulating pieces. Daniel Arsham's Eroded Porsche is a fantastic piece that fits that idea.
Ana:
I find Punched, Burst and Collapsed lamps absolutely brilliant representative pieces of this new aesthetics of broken. What was the idea behind it?
Daniel B. Monroe:
The idea behind those pieces was both expressing different thoughts and feelings and experimenting with how the light would reflect and interact with the broken parts.
© Daniel Bruce Monroe: Punched (~30" tall, 10" wide). Source: @bruceceramics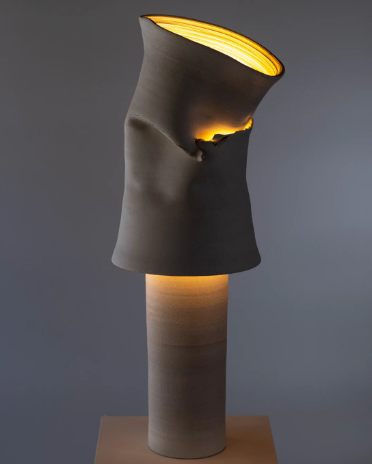 Ana:
What would be your plans for the future? Exhibitions? Goals?
Daniel B. Monroe:
I really want to start collaborating with different artists. There are so many different people with fantastic ideas that I admire.
Creating blends of artists' creations often leads to really thought provoking pieces.
More about the artist:
bruce ceramics: Daniel Monroe, https://bruceceramics.com
Instagram: @bruceceramics
Comments
Hello, I just wanted to say that I bought one of your mugs at the "Earth & Fire" exhibit at the Stifel Fine Arts Center in Wheeling, WV. Its the white and brown clay mug shown on your home page. I just love the shape, colors and the handle. Every time that I show it to someone I tell them to hold it and try out the handle. It is such an innovative design and so comfortable to hold. Thanks!
Great work! What an interesting young man.